Virtual Scrapbook
The information contained in this virtual scrapbook was taken from the publication that was issued in conjunction with the exhibition "Quilts of the Cane River Plantations," held in the LSU Textile and Costume Gallery from March 1 through May 29, 1998.
About the Lecture Series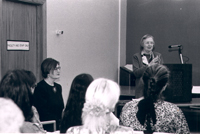 View a larger pictures
March 1st, 1998
"Quilts of Melrose Plantation"
by Lynn Doyle of Shawnee, Oklahoma.

April 26th, 1998
"Diaries, Stitches, and Cotton: Southern Women and Nineteenth Century Quilts of Plantation and Town"
by Bets Ramsey of Chattanooga, Tennessee.
May 17th, 1998
"The History and Identification of Southern Quilts"
by Mary Lohrenz of Jackson, Mississippi
The lectures were held at 2:00 pm in room 115 of the LSU Human Ecology Building.
The exhibition and series of lectures are funded through a grant from the Louisiana Endowment for the Humanities, a state affiliate of the National Endowment for the Humanities, and through the continued support of the Friends of the LSU Textile and Costume Gallery.
The items featured on the brochure are part of the Collection of Magnolia Plantation.

Lynn Deal Doyle, Guest Curator
Jenna T. Kuttruff, Ph.D., Curator
Pamela P. Rabalais, M.S. Registrar
The virtual scrapbook was compiled by Dr. Monica Santaella