LouLou's networking also included newsmen, popular magazine writers, and novelists, such as Frances Parkinson Keyes and Harnett T. Kane, for whom she provided material about the Acadian culture and from whom she sought aid in her extraordinary promotional efforts. Among the few accolades she received during her lifetime was a diploma of the Palmes Academiques awarded her in 1955 by the French Government through the Consul General of France, New Orleans, for her efforts in promoting the French language.
LouLou initiated the Acadian Handicraft Project during a period when Acadian language and culture did not enjoy the popularity it has experienced since the project's untimely ending, with her death in 1962, at the height of its activity and success. But it was through her efforts that seeds for CODOFIL, the Council for Development of French in Louisiana, were planted and Acadian craft work was preserved. As eulogized by Mary Alice Fontenot, author of the popular Clovis Crawfish series of books, Louise Veronique Olivier gave the word "Cajun" a new dignity and status, emitting what Fontenot described as the "happiest laugh in Louisiana."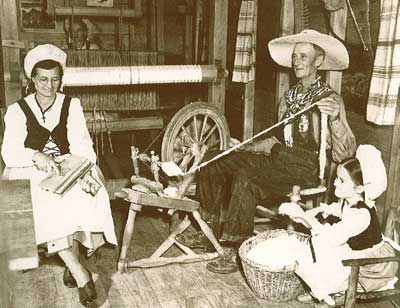 Acadian Handicraft Project demostrators preparing cotton for weaving. Mrs. Ambroise LeBanc, Mrs. Gladys Clark, Mr. Ambroise LeBlanc, Miss Jane LeBlanc. 1940s. Collection of the Frozard-Oliver Plantation House.