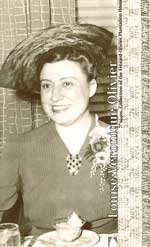 Louise Veronique Olivier, affectionately known as "LouLou," was of Acadian descent, born in 1906 in Arnaudville, Louisiana. After receiving both undergraduate and graduate degrees in music and French, she was appointed in 1938 as director, or field representative, of the Louisiana State University General Extension Division's French Project. The program sponsored a series of radio broadcasts in French to rural Acadian assemblies of listeners, called Assemblees Francaises. At these parish-wide gatherings, LouLou collected and recorded French songs, stories, games, and dances unique to each assembly area. A second phase of the project conducted Assemblees with elaborate programs of song and dance, often including school children, and many times with craft displays. In the two-year period of the phase's duration, attendance ranged from 300 to 3000 at the 29 events scheduled.
Yet a third phase of the French Project began in 1942 when gas rationing constraints due to U. S. involvement in World War II limited mass gatherings such as the Assemblees. Although her personal crusade to preserve the French language continued throughout her life, LouLou determined that the most effective channel to perpetuate the French Project at this point was to develop Acadian crafts as a movement in itself. Hence, the Acadian Handicraft Project began its activity in reviving, encouraging, developing, and perpetuating Acadian crafts by furnishing a sales outlet for Acadian women involved in craft production.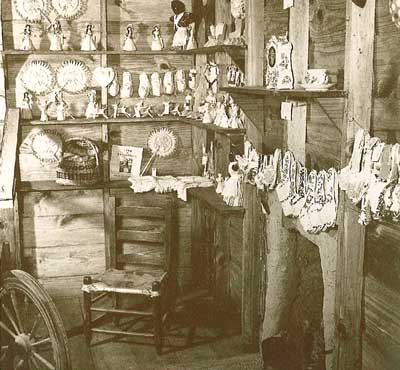 Acadian Craft Shop interior. Thought to be the shop at Longfellow Evangeline Memorial State Park, St. Martinville, Louisiana. 1940s. Collection of the Frozard-Oliver Plantation House.