"I think she is going to be considered one of the finest quilt makers of this century"
Nancy Crow
Born in 1927 on Kleinpeter Plantation outside Baton Rouge, Louisiana, Anna Williams was first exposed to quilting as a young child who picked up her mother's and grandmother's scraps as the colorful pieces fell to the floor. Her first experimentations with textile design began as she converted these scraps to dresses for a "weed" doll and then into her first quilt, a baby quilt, at age nine. Just as her quilts are today, her early projects were piecework.
Today, Anna's piecing may be rectangular strip piecing, which she terms "strings," or may be in variations of the "Log Cabin" block, She also designs quilts incorporating triangular pieces that Anna refers to as being in a "Monkey Wrench" pattern. Extensive experimentation throughout her prolific career has resulted in complex versions of each of these traditional American patterns. Her fabric choices are not limited to small scrap pieces, with little variety in color or print; however, she often chooses to cut each down to a small bit of fabric prior to piecing. Like other African-American improvisational quilters, she uses no template for cutting. She plays with her colors and the resulting strips or blocks just as she did as a child until she innately feels the arrangement is aesthetically pleasing to her eye. This methodology often leads to irregularity in block and quilt shape.
Anna's success as a quilt artist is evident in the recognition she continues to receive from not only internationally acknowledged quilt scholars and artists, but also from community leaders who selected her as Art Council of Greater Baton Rouge Arts Ambassador Artist in 1997.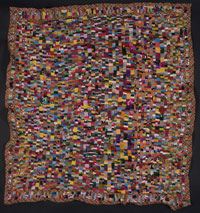 Anna Williams, CXCI, "Many Minis + Glitter,"67" X 71" , 1998.
Unquilted. Collection of Katherine Watts. Mark Kleiner, Photographer.