"Quiltmaking is a ... democratic activity, accessible to anyone with ... an urge for self-expression, and an eye for beauty"
Robert Shaw
The best known construction technique in African-American quilting is the "strip" quilt, a pieced quilt with pieces sewn together into long narrow strips that are then joined to form the quilt top.
The strips are often made up of pieces of differing sizes, which are sometimes the smallest usable rectangles of cloth and are called "strings". The strips are also characterized by pieces in varying colors and patterns and usually run the full length or width of the textile.
The strip pieces are often cut freehand without template guides, so that variations occur from piece to piece. Wahlaman, in Signs and Symbols, African-American Images in African-American Quilts, describes the incorporating of variations as an example of African-American use of flexible patterning. The method results from the quilter choosing a traditional Euro-American pattern, establishing a pattern in one block, and then purposefully varying it in size, arrangement, and color in successive blocks. Choosing this method is an aesthetic decision rather than one based on a lack of cloth in any particular size, color, or pattern.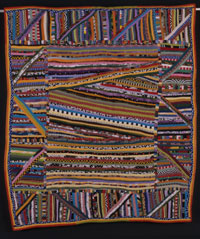 Anna Williams, CLXXX, "Affluent String + String Border," 59" X 68" , 1998.
Quilted by Marie Whitten, Callie Brian, Ethel Love.
Collection of Katherine Watts. Mark Kleiner, Photographer.