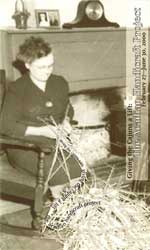 Acadian Handicraft Project craft worker braiding palmetto for handbags. Miss Elvina Kidder.
1940s. Collection of the Frozard-Olivier Plantation House.
The uniqueness of the Acadian or Cajun culture and its craft work was observed as early as 1812 when Louisiana's first governor, William C. C. Claiborne, sent to the White House an Acadian handwoven cotton blanket. Attention was also brought to Acadian crafts at late nineteenth century world's fairs held in New Orleans, Minneapolis, Chicago, and Atlanta. Sarah Avery Leeds, a member of a prominent family in south Louisiana, is given credit for including Acadian craft in these expositions as well as promotion through the New Orleans Women's Christian Exchange, a charitable philanthropy whose consignment shop marketed Acadian homespun textiles.
Many aspects of the Acadians' distinctive traditions were perpetuated into the twentieth century. In 1929, a second Acadian blanket was sent to the White House through the efforts of another Louisiana woman, Susan W. Anding, of Opelusas. However, the culture's ethnic identity was threatened as the century progressed by the advent of mass communication, the building of highways into once isolated Acadian areas, and the compulsory English education ruling. It was in this climate that Louise Olivier became involved in promoting the production of traditional craft work among the Louisiana Acadians.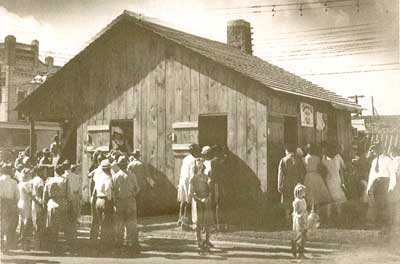 Acadian Handicraft Demostration, Crowley Rice Festival. 1940s. Collection of the Frozard-Oliver Plantation House.