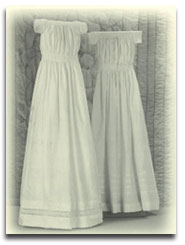 Figure 1. Long gowns, 1854. White cotton with Swiss embroidery on waistband, handsewn.

This exhibition featured examples of long infant gown styles that were widely used during the nineteenth century (Figure 1). This changed as the focus turned more to the comfort of the infant and gown lengths gradually became shorter. By 1889, the Wife and Mother book stated:
How absurd, too, the practice of making them wear long clothes. Clothes to cover a child's feet, and even a little beyond, may be desirable; but for clothes, when the infant is carried about, to reach to the ground, is foolish and cruel in the extreme (4).
This author goes on to advocate that gowns should only be 30 inches to a yard in length. By 1920, the recommended length had been reduced to 28 inches or less.
As the baby grew and became more active, gowns were shortened to a more manageable length. Guidelines were given for the right time for "shortening the babe" depending on the season and age of the child. Although not all authorities agreed on this subject, the standard age was usually between two and six months.