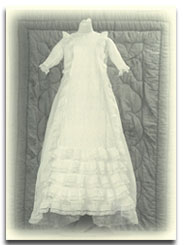 Figure 4. Christening gown, 1900. White cotton with English net center front panel, long ties and train at back.
Babies were christened either in the church or at home, generally in the presence of relatives and close friends. The elaborateness of the infant's gown varied with the formality of the ceremony. If the christening took place in the church, the baby was often dressed in an exquisite gown (Figure 4). According to The New Book of Etiquette:
On this first important appearance in church, baby wears an elaborate christening dress - possibly the very dress worn by its mother, father, or grandparent. (8)
A home christening was sometimes recommended as being more desirable for both mother and baby.
If baby is given its name at home, there is no tiresome journey to and from the church, no dressing and re-dressing to try the patience of the most good-natured little newcomer. (9)