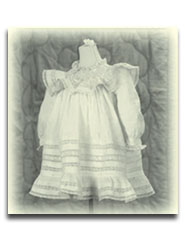 Figure 2. Short dress, 1924. White cotton, lavishly embellished with tucks and lace. Worn
by Harvey Sidney Henning, Jr.
The first clothes for babies of the late nineteenth and early twentieth centuries were predominately white in color and were made without regard to the gender of the infant. Both male and female babies were dressed in frills (Figure 2). However, a touch of color was sometimes used to personalize the clothing. According to a 1914 article in The Sunday SentineL:
If you like the color note on the little one's garments, use pink for the boy and blue for the girl, if you are a follower of convention (5).
This practice is just the opposite of today's tradition of pink for a girl and blue for a boy. The Art of Dressmaking, published by Butterick in 1927, reiterates this use of color:
All baby clothes should be white, and as fine and dainty as possible. Pale shades of baby pink and blue can be used for ribbons on dresses and caps ... [and] for baby kimonos, sacks, sweaters and booties ... etc. But the actual dresses, slips, caps and coats, petticoats, etc. are always white (6).