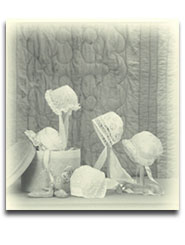 Figure 3. Accessories, clockwise from box: 1) Pink bonnet, shirred brim and net ruffle, 1942. Worn by Jane Pickett. Gift of Mrs. SR Pickett, III (91-205-3). 2) White lace bonnet, linen ruffle, embroidered eyelet, 1900s. 3) White batiste bonnet with drawnwork designs, tatting trim, 1906. Gift of Florien McKnight (80-148-3). 4) Pink organdy bonnet, net ruffle with valenciennes lace, 1930s. Margie Campbell Collection (XX-015-3). 5) White organdy bonnet, Ayrshire embroidery, 19th century. Gift of Magnolia Mound Plantation House (82-181-3). 6) White leather ankle strap shoes with button trim, 1920s. Gift of Mrs. Robert Linfield Singer (95-T02-3). 7) Hat box of cream silk moire with painted child's face and flowers, 1920s.
Accessories (Figure 3) made up an important part of a baby's wardrobe. Bonnets were often the most elaborate of infants' accessories but were also practical. In 1917, the Woman's lnstitute of Domestic Arts and Science gave the following advice:
To be properly dressed for out of doors, the baby must, of course, have one or more bonnets. As the strings required for a baby's bonnet always become soiled more quickly than the bonnet itself, strings of batiste or lawn are more satisfactory than those of ribbon. For convenience, therefore, several pairs of strings should be provided, and instead of sewing them to the bonnet they may be pinned in place with attractive baby pins, so that they may be easily changed (7).